When talking about tools for product managers, we're usually referring to the standard few that most product managers use every day. These product management tools generally include product analytics software, development tracking tools, and roadmapping software.
But a product manager's job involves a lot more than gather product insight, tracking the backlog, and reviewing the product roadmap. Whether you're a new product manager or a seasoned PM just wanting to make sure you're not missing a key component of your role because you're lacking the proper tool—the following is a list of product management tools to help you excel in your role.
12 Product Management Tools to Have in Your Product Stack
1. User tracking and analysis tools (such as Pendo and Amplitude)
These tools can be invaluable sources of intelligence and insight into how your software's users or your website's visitors are actually engaging with your product and your content.
Whereas customer surveys or interviews — which are valuable tools in their own right — will tell you only what your customers say and think product analytics platforms capture and help you analyze what those customers actually do.
If your company sells software or just maintains a lot of content on a website, deploying a service like Pendo or Amplitude can uncover important realities about what resonates with your users, and what doesn't.
2. Roadmapping software (such as ProductPlan)
Roadmapping software is a must-have item on any list of product management tools. Using any non-native roadmap application to draft and maintain your product roadmap (such as spreadsheets or slide decks) will create far more work, be far less flexible and easy to share, and more prone to version-control issues that can slow your product's progress. This is exactly why we built ProductPlan.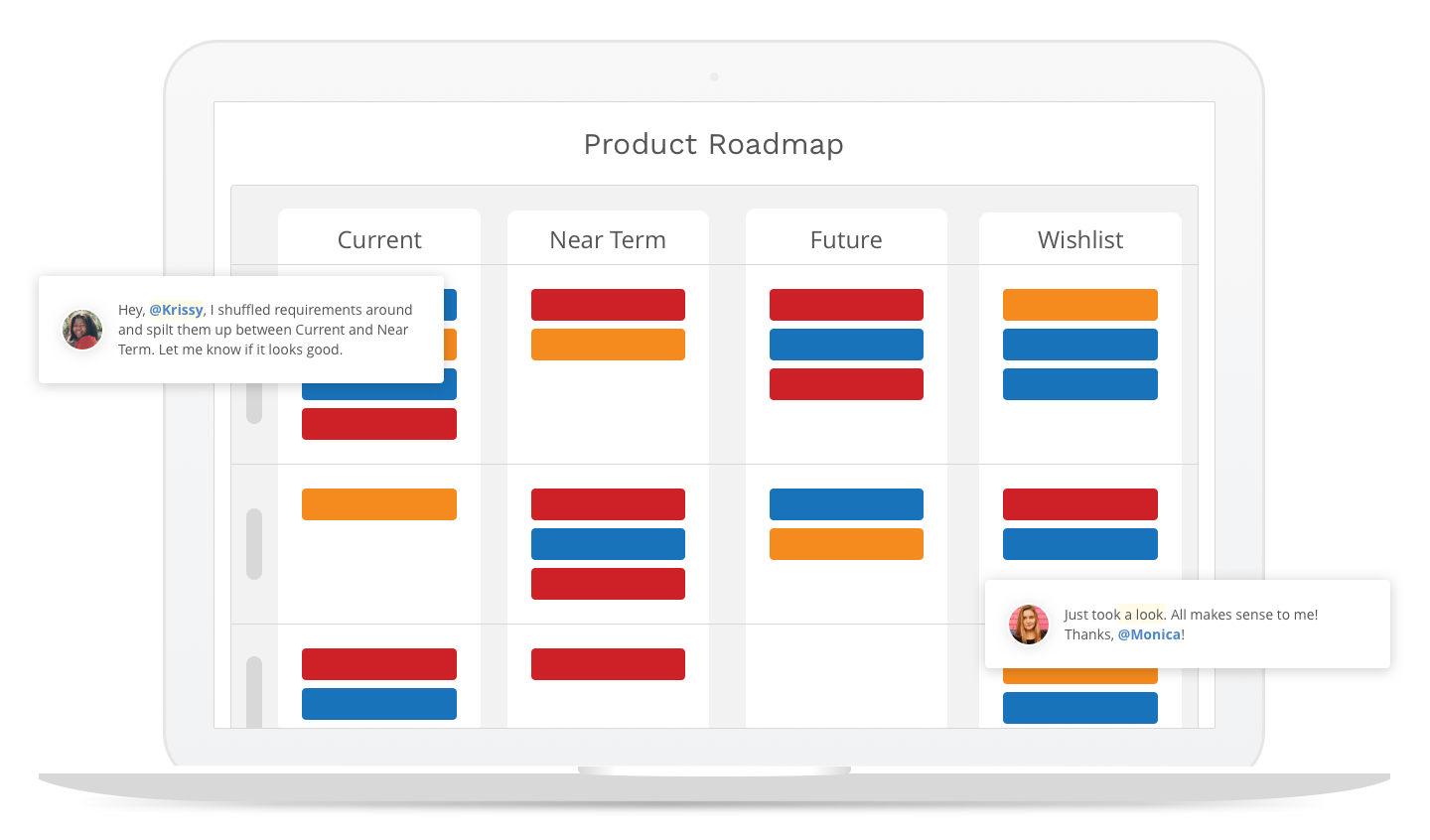 ProductPlan makes it easy for product teams to build and collaborate on product roadmaps. A visual, interactive roadmap is much more effective for communicating product strategy and helps align your team around your product vision.
Watch the webinar, What's in Your Product Stack: Roadmap Tools
3. Customer survey tools (such as SurveyMonkey or Typeform)
What's great about web-based survey tools like SurveyMonkey or Typeform is that they have so many types of pre-formatted questions that, whether you want to offer multiple-choice questions, drop-down lists, or just open comment fields, you can put together a survey in minutes.
You can then send the survey out to your customers and easily track and analyze the results.
For gathering quick answers to important user questions, these tools are extremely helpful. But beware: Like email, online survey tools are so easy, convenient, and inexpensive that it can be tempting to overuse them. Use your surveys sparingly, so as not to upset your user base.
4. Recording apps for customer interviews (such as GoToMeeting or Zoom)
When you speak on the phone with customers, even if you're just calling to answer a question, it's always a great idea to record the call. Using a tool such as GoToMeeting or Zoom makes it easy to record those conversations and reference them later. You never know when a customer will offer valuable insight, ask a question you realize a lot of other users will have, or just share with you a novel why they're using your product that you might not have otherwise thought of.
5. Industry analyst accounts (like Gartner or Sirius Decisions)
Here's a tool you probably wouldn't immediately think of as part of the product management tool stack — but depending on your industry and target customer, you might want to consider it.
Having access to the collective industry research and the latest thinking of the analysts covering your space can be extremely beneficial in terms of guiding your strategic thinking and helping you determine where your market is headed. The statistics and reports these research firms (such as Gartner or Sirius Decisions) output can give you just the types of data you need to prioritize and earn stakeholder buy-in for specific themes and features on your product roadmap.
Of course, this will be among the most expensive product management tool on this list, so you might need to use your powers of persuasion (which you no doubt have as a product manager) to convince your management team of its value.

6. Team messaging tools (such as Slack or Confluence)
When your product development, or any complex and cross-functional initiative, gets underway, you will want an easy and immediate means of communicating — as well as maintaining an ongoing record of all communications related to the initiative.
Thankfully, there are many simple, cloud-based tools that allow for just this type of easy and centralized team communication. Slack and Atlassian's Confluence are a few that come to mind.
7. Presentation software (like PowerPoint or Keynote)
We often point out how inefficient presentation tools are for roadmaps. But that doesn't mean that PowerPoint or Keynote shouldn't have a prominent slot in your product management toolkit.
Presentation decks can be invaluable for communicating your high-level strategies, visions, and plans across your organization and to external audiences like customers.
Vision decks, for example, can be a powerful way of communicating your product's vision to a group of executive stakeholders and earning their buy-in. Presentations can also be a highly effective way of conducting sales training or educating industry analysts about your product.
8. Project management tools (such as Jira, Pivotal Tracker, or Trello)
Like the team messaging tools we listed above, today's project management applications are much more robust and provide a simplified means of tracking and documenting details.
Using a web app such as Trello, for example, you can track and share various items with relevant team members by grouping these items into easy-to-view Boards — such as "Sales Collateral in Progress" — and then creating individual Cards below, such as "Product Data Sheets" or "Case Studies." These cards can easily be dragged and dropped under different Boards — say, from "In Progress" to "Under Review."
Other popular project management tools include Microsoft Project, which teams typically arrange in Gantt chart format, and Jira, which is often configured as a less visual issue-tracking tool. And tools like Pivotal Tracker will help you to execute on your roadmap and keep your backlog organized.

9. Feature flagging software (such as Split.io or LaunchDarkly)
Feature flags give product teams an easy way to "turn on and off" specific features once code has been deployed to production. This comes in handy in a number of scenarios: coordinating a big feature launch, A/B testing, rolling back a new problematic feature.
Tools such as Split.io and LaunchDarkly empower product teams to manage feature flags and get the most out of their usage.
10. Session replay and heatmap tools (such as FullStory or Hotjar)
As a product manager, you spend a lot of time trying to dig into the minds of your customers and unearth exactly what the experience of using your product is like for them. With tools like FullStory and Hotjar, you can get insight into user behavior like never before.
Heatmap software helps you understand exactly what users on your site care about by visually representing their on-site behavior. This insight can be extremely valuable as supplemental data for your product team. A heatmap in conjunction with a number of session replays and a few customer interviews will give you plenty of data to make an informed product decision.
11. Flowcharting tools (such as Visio)
Although not all product managers use flowchart and diagram applications, the affordability and ease of use of these tools make them a great way of performing a step that many PMs overlook but shouldn't — customer journey mapping.
Creating a customer journey map is helpful in giving you and your organization a clearer view of your customer's full experience with your company. When created properly, a journey map will show all of the touchpoints an individual has with your organization from the first visit to your website (or the first call from one of your sales reps) through purchasing and using your product.
Journey maps can also focus specifically on the full experience of using your product — say, from the first visit to the site, through completing an online form, through any contacts the user has with your sales reps or other staff, through downloading and logging in to your tool.
Flowcharting and diagramming tools — like Microsoft Visio and OmniGraffle — can be helpful in mapping out any specific aspects of a user's workflow or experience with your product. And because they offer a visual view of that workflow or experience — as opposed to merely a list of steps your customer will take — the flowcharts you output from these tools can then help you uncover insights into how to strategically prioritize your product roadmap.
12. Idea-capture and collaboration tools (like Evernote and Google Drive)
Finally, don't forget the business productivity tools to capture ideas, review and share notes from meetings, and organize your insights into cohesive plans to earn stakeholder support.
Here we're thinking about idea-capturing tools like Evernote, cloud-based collaboration apps like Google Drive, Dropbox — and even paper and pen because sometimes inspiration strikes when your smartphone is across the room!
Get a Budget for Your Product Management Tools
Requesting budgets for a tool is still a relatively rare occurrence for product teams, who traditionally haven't had any dedicated budget and rarely ask for anything financial other than approving travel expenses or a new laptop. So, how do you successfully broach this subject with the executives holding the purse strings?

1. Make assumptions
Paint a picture of how life will be better once you have this tool because you're either more productive, more nimble, your customers are happier, you're saving the company money or you're improving time to market, you can begin trying to quantify those benefits.
For example, having a requirements management tool will save the team 15 hours per week and reduce the likelihood that customer requests will fall through the cracks, which will reduce the average turnaround time from customer feedback to deployed feature by one sprint.
2. Strength in numbers
While a tool that only helps product management is still valuable, a much stronger case can be made when the tool will benefit other groups in the organization. This could be via direct usage—meaning that not only will product management use this tool but it will also be utilized by customer support or engineering—or as an indirect benefit where the output of the tool will be consumed by another group and make them more efficient as well. In addition to benefitting more than just the product management team, it also gives you another executive in your corner when it's time to ask for money.
3. Acknowledge the alternatives
In most cases, there are multiple vendors offering specialized software solutions that address your needs. Even if you have already settled on a particular vendor, do your homework and include the other options as part of your pitch.
You can highlight why the solution you're sweet on is superior, whether it's the features or the cost, and potentially have a fallback plan if there's a cheaper, inferior choice you could live with if you can't get the full budget you were looking for.
4. Try the free-trial
If the tool you want has a free trial, dive in and start using the product before you even broach the budget subject with the powers that be. Not only will you be able to confirm that it's the tool you want, but you can also collect more data to strengthen the business case when the trial is ready to expire, and you can demonstrate exactly how your team is using it.
5. Overcome the uncomfortable ask
Product teams aren't used to requesting a budget for tools, but that doesn't mean the team doesn't deserve them. High performing organizations need tools and processes that support their growth and expanding portfolio, so there's no shame in requesting the budget required to equip your team with tools that can truly make a difference. Even if the funds aren't available immediately, you can at least start the conversation to carve out a dedicated product management tool budget for the next planning round to get them in the future.

---
Did we forget anything useful? Do you use any product management tools that aren't on this list or have any recommendations for getting a budget for those tools? Please share them below.