What is Product Discovery?
The product discovery process has two distinct parts. It includes developing a profound understanding of customers, then using that knowledge to build vital products for customers. Product discovery plays a key role in helping product teams decide which features or products to prioritize and build, while setting the stage for achieving product excellence. 
Dig further into the topic here.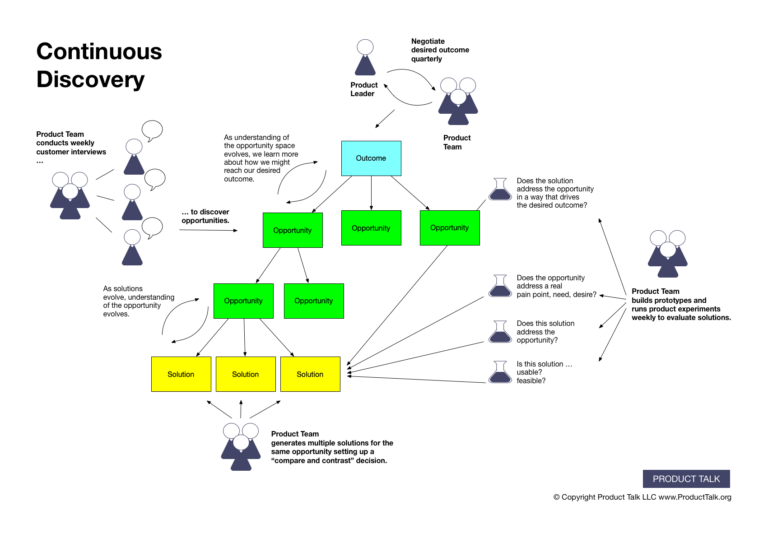 What is the History of Product Discovery?
The emergence of product discovery began in the early 2000s as a reaction to the then-standard method of sometimes years-long, requirements-steeped product development process.
In 2001, the Agile Manifesto was released and provided a much-needed alternative to slow, often-imprecise, documentation-driven product development. The agile approach was revolutionary because it encouraged product teams to develop in much smaller batch sizes. Ultimately, this trained them to build products that customers could then use. Around this time, UX design and design thinking were gaining momentum, refocusing product development on customers rather than internal business stakeholders, and prompting product teams to ask a bold, new question: What do customers actually want?
This customer-centric approach to product development forms the core of the product discovery process.
Hear Teresa Torres, a product discovery coach, discuss the evolution of product discovery, and its counterpart, product delivery. 
Why is Product Discovery Essential for Product Teams?
Cultivating a deeper understanding of customers helps product teams create products that customers want and need. The process enables teams to move beyond "nice to have" features and products towards building products that solve a problem and become a genuine necessity for customers. 
Product discovery provides value to the product team, value to the company (e.g., not wasting valuable resources pursuing the wrong ideas and developing products nobody wants), and value to customers by delivering something they may very well consider vital. The process of product discovery ensures that product managers and teams are on the right track in prioritizing and building a product that will be successful.

What are Key Steps in the Discovery Process?
1: Power up your customer empathy by understanding the underlying needs and feelings of customers. 
2: Create a complete picture of your customer by crowdsourcing different perspectives across your team.
3: Listen—really listen. Suppress your natural urge to rush to a solution, and instead, ponder the customer's root problem. 
"Too often, we jump to the first solution that comes to mind. Our brains are remarkably good at closing the loop—when we hear about a problem, we jump to solve it. But if we want to find good solutions, we need to take the time to make sure that our solutions are tailored to our customers' specific needs." 
—Teresa Torres, product discovery coach
4: Try visual mapping to gain clarity.
5: Collect and organize customer feedback from various input channels (e.g., social media, email, customer service, user research, customer advisory board, etc.).
6: Be objective. Do potential solutions align with problems, or are you biased? Remember: Not every idea will stick.
7: Test your assumptions. 
After product discovery, the next step is product development, which includes identifying a market need, researching the competitive landscape, conceptualizing a solution, developing a product roadmap, and building a minimum viable product. 
Want to dive deeper into product development?
See also: Customer Empathy, Agile Values, User Experience, User Research, Product Excellence, Customer Development, Hook Model, Design Thinking.